All Trades Abseiling is an industrial abseiling and rope access firm that provides commercial, industrial and residential properties in Sydney with reliable and professional building maintenance and cleaning services. Each of the licensed tradesmen has undertaken advanced training from the Industrial Rope Access Trade Association.
Since 1991, Matt Thomas and the All Trades Abseiling team have been providing innovative high rise building maintenance and cleaning services on some of Sydney's most iconic high rise properties. Unlike other industrial abseiling teams, where the rope access technicians are not qualified tradesmen, All Trades Abseiling is a team of fully trained, qualified and insured tradesmen that provide first-rate workmanship. Don't settle for poor quality results just because your property is hard to access. The All Trades Abseiling team has mastered the art and science of safely accessing high rise commercial, industrial and residential properties.
All Trade Abseiling is proud to highlight their 25 year incident free record. Despite providing complicated building maintenance services in seemingly inaccessible properties, All Trades Abseiling has maintained this record due to their diligence in incorporating practices that more than meet the required safety precautions. Ongoing training, reporting and monitoring is utilised in order to keep this incident free record going.
Rope Access Services Provided
High Rise Painting
With a team of professional tradesmen with extensive experience in the painting industry, there is no job too big or small for All Trades Abseiling. Just because they are painting at height does not mean that they are lowering their quality of workmanship. By only using top quality paints and finishes, you can rest assured knowing that All Trades Abseiling are providing first-rate high rise painting services.
High Rise Window Cleaning
The All Trades Abseiling team are experts in high rise window cleaning. By utilising rope access and not having to rely on costly scaffolding or swinging-stages, All Trades Abseiling provides cost-efficient and unobtrusive window cleaning services.
With an eye for detail, you will be more than satisfied with the streak-free finish that the experienced and highly skilled team provide. If you have been researching online for a high rise window cleaning business that combines quality workmanship with professional customer service, rest assured you can rely on All Trades Abseiling.
High Rise Pressure Cleaning
Using industrial strength pressure washing machinery, the All Trades Abseiling team provide high pressure cleaning, soft wash cleaning and acid brick cleaning services. Not only will the pressure clean of the exterior of your building improve the appearance, but it can extend the lifespan of your building's facade. Whether you need pre-painting preparation, cleaning of window frames, louvres or fixtures, All Trades Abseiling use their iconic rope access to provide affordable services that will leave you impressed.
Anchor Point Installation And Certification
If there is a team in Sydney that knows roof anchor points, it is All Trades Abseiling. Every day they use roof anchor points to deliver their range of building maintenance services. They know what works and how to design innovative height safety systems with maximum usability.
The certified anchor point installers will custom design a system for you based on your roof structure and required usage properties of your system. With a wide range of anchor points for concrete, metal and tiled roofs, All Trades Abseiling can help you create a safe working environment on your roof that is WHS compliant. If you have existing roof anchor points, All Trades Abseiling can provide certification of your height safety system to AS/NZS 1891.4:2004 and ASA/NZS 4488. No matter the size of your property, All Trades Abseiling has the solution for you!
High Rise Waterproofing
Waterproofing can be a difficult job when performed on ground level; when working on a high rise completing a waterproofing job on the exterior of the property is a significantly more complex challenge. All Trades Abseiling offers cost-effective high rise waterproofing services that include water ingress testing, condition reports and completing repair works. The experienced tradesmen can apply a waterproofing membrane or elastomeric paint, depending on the location and condition of the leak. For hassle-free high rise waterproofing with guaranteed workmanship, All Trade Abseiling is the industry leader.
All Trades Abseiling Reviews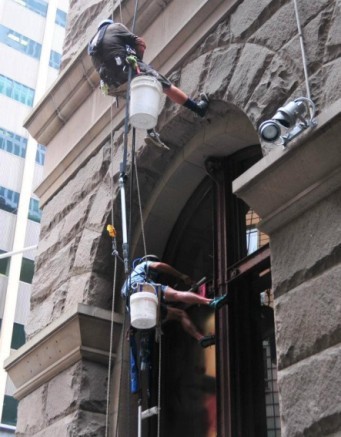 "I'd like to commend Matt and his team at All Trades Abseiling for their continuing help in maintaining our building. Whether its routine window cleaning or façade repair work they can be depended on for reliable and efficient service; a most professional outfit". – Peter Frank, Oceanview Apartments
"Your prompt, reliable service was much appreciated in waterproofing the sides of the building and windows I had engaged you for.The 50-year-old building does not leak anymore – after years of attempts.
It was a pleasure and quite refreshing dealing with you and your employees". – Bill Alamein, Bildam Constructions Pty Ltd
It was a pleasure to deal with your company during this difficult job. The prompt, professional and courteous tradesmen that were on that site doing those difficult attachments to the building, made our work extremely easy. I know there will be future works where we will need your expertise and we look forward to working with you again. – Mick DiMunno. Director, North Side Contracting 
Why Has All Trades Abseiling Received A BestLocal.Sydney Five Star Rating?
Quality service
More affordable than scaffolding or scissor lifts
Expert workmanship
25-year incident free industrial abseiling record
Sydney wide service
What Is The Industrial Rope Access Trade Association (IRATA)?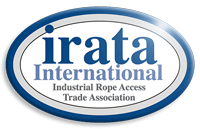 Working at heights is a serious matter. One mistake and there are disastrous consequences! The Industrial Rope Access Trade Association is the peak body and leading worldwide organisation for rope access. With a dedication to providing members with guidance, training and research on the best working practices and ongoing certification of personnel, IRATA ensures safe industrial abseiling techniques and standards. Each of the tradesmen employed by All Trades Abseiling are fully trained and certified by IRATA. In order to provide the most reliable and professional rope access services in Sydney, all of the All Trades Abseiling team continue to maintain their high standards, safety inspections and work quality in line with current IRATA standards.