When is security fencing not security fencing? When you can break into it in minutes with a standard spanner or similar tool. That is why No Thru temporary security fencing is unique. The international patent pending fence panels interlocks together. The only way to remove the panels is by starting at the gate opening and reversing the installation process. This makes them impossible to be removed with a simple tool.
Security has become a major issue in these recent years. With crime on the increase and random acts of vandalism seeming to become the norm, times have changed. The old-style security fencing that we all grew up with serves a purpose, but if you need temporary fencing that can really keep trespassers, thieves and vandals out, then you need No Thru.
Why is No Thru Temporary Security Fencing Unique?
The foot of the No Thru temporary fencing system has several key features. It has a 'keyhole', which allows the 'key' at the bottom of the panel to be locked into place. The foot is designed in a way which minimises pedestrian hazards. It has multiple positions in which the panel can be placed. This allows most of the foot to be placed inside the fencing so people do not trip over it as they walk past. The feet interlock like Lego™, making them stackable. This is useful when you need to add weight if there are gales or storms etc.
The panel of the No Thru temporary security fencing system has a 'key' at the bottom of each panel. This inserts into the foot and locks the panel. The panel cannot be lifted from the foot unless it is turned to the correct angle. Once the fence is fitted, each panel piece cannot be moved, creating a locked system.
Another key feature is the U-shaped connecting rod at the top of each panel. This rod fits into the panel next to it, and so connecting the panels. This eliminates the need for the old-style clamps on regular temporary fencing. It also means installing and removing the panels is much quicker and easier. The temporary fence panels are higher and heavier than contemporary fencing panels. They also feature dense, anti-climb mesh, which prevents an intruder from climbing over the top of the fencing.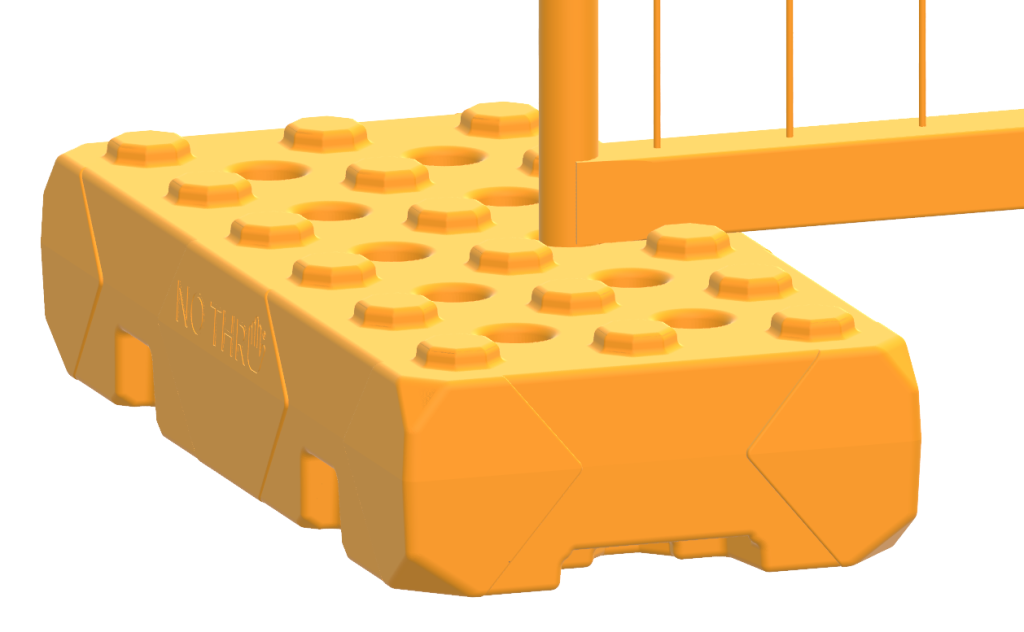 What Can You Use Temporary Fencing For?
This unique patent pending temporary fencing system has several uses.
Temporary fencing is a type of security fencing used for various applications. It is generally used for crowd control and safety, as well as to keep people and animals from entering hazardous areas. Temporary fencing is commonly used around construction sites, public events, and other areas that need to be secured for a short period.
It also has many applications for private properties, such as for pool safety and to keep pets and small children from entering areas that may be dangerous. In Australia, all pools must be fully enclosed by a barrier that is at least 1200mm in height.
In addition to its security applications, temporary fencing can also be used to contain debris and to create a visual barrier. This is usually what you see around building sites. Many construction firms pay thousands of dollars yearly for security guards to keep their construction sites secure. With the No Thru temporary security fencing system, you only need to monitor the gate, as the other panels are locked and secure. If you want more information about this revolutionary temporary fencing solution, you can call +61 (0)401 66 8478.